This is a new version release note of  Shopping Button, the extension is available for download now.
For a complete user manual of this add-on, please visit here.
A litter more than a month after release of Shopping Button 2.0, we are releasing version 3.0, the evolution of Shopping Button software is catching up the speed of Moore's law.    Even though the previous version took almost 12 x the time it took to build this version, the change we are making in version 3.0 is about 12x more drastic than version 2.0, life is indeed full of dramas.
Starting from this version, this Chrome Extension will start to help you manage and organize your online shopping traces in your browser history.  Shopping Button monitors your browser history, every time when you click on its toolbar button, it pops up the most updated list of your recently visited shops, with the most recent one on the top.  With this simple tool, organizing and revisiting your recently visited shops is easier than ever.
Shopping Button currently supports ~400 and growing number of top-tier online shopping destinations in United States, China, United Kingdom, Canada, France, Germany and Belgium.  These shops also include travel booking sites and local deal providers.  We are working hard to expand the coverage and target to include top 1000 shops worldwide by end of 2013.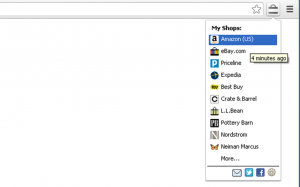 Disclaimers:
* This extension analyzes your browser history data to better serve your shopping needs, the processing of your browser history data is mostly done locally on your computer, in some cases when your history data will need to be processed remotely, you will have easy option to decline that offer, and we will not start transmitting your data without your explicit consent.
* This extension uses Google Analytics to collect summary-level anonymous extension usage statistics to help improve user experience. If you want to opt-out, please visit http://tools.google.com/dlpage/gaoptout
* Google Chrome® and Google® logos are registered trademarks of Google Inc.
* Logos and names etc. of all shopping websites including Amazon®, eBay®, etc. are used for promotional purposes only with no ownership implied nor claimed.