Here comes another release packed with exciting changes: new name, new logo and exciting new features added to site menu.  Starting from this version, this tool has adopted a new name: BookmarkMatic for Shoppers.  As the key value of this tool is to automatically create bookmark for shoppers, we feel BookmarkMatic for Shoppers name reflects that feature in a more direct and easy-to-understand way than the previous name.  Hopefully it's not too difficult to pronounce for you.  We are also adopting a beautiful black bookmark icon, thank you VisualPharm for the great design.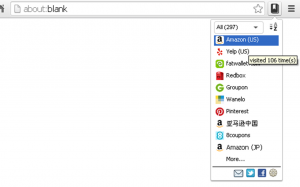 New features
Automatically categorized shopping sites.  Manually created browser bookmarks are usually organized and categorized.   In this version, BookmarkMatic is making the first step of categorizing sites automatically.  All shopping sites you visited can be either viewed in 1 list or filtered from 1 of 7 pre-set major categories: Online Shopping, Local Shopping, Shopping Guide, Travel, Online Betting, Real Estate and Cars.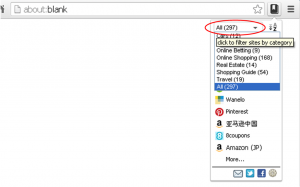 Sort sites in 1 of 3 ways.  How links are sorted is important in manually created bookmarks since it determines how convenient each link can be accessed.  In this version, BookmarkMatic introduces 3 sorting orders to automatically sort any list of sites: Visit Frequency, Visit Time or Site Names (alphabetic A-Z).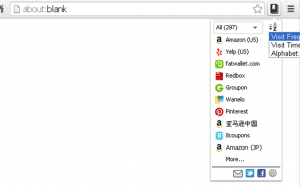 Please stay tuned for upcoming versions.
This is a new version release note of  BookmarkMatic for Shoppers, the extension is available for download now.
For a complete user manual of this add-on, please visit here.