BookmarkMatic for Shoppers (BMfS) extension was created with one mission in mind: to save online shoppers' effort and time spent on saving and organizing favorite shopping links as bookmarks.  So far BMfS was able to automatically sorts and categorizes shopping sites from browsing history, but that's not enough.   We understand that shoppers needs capability to drill down into any shopping site and be able sort the links by visit frequency or visit time, we just released this feature in the version 5.0.2013.1207.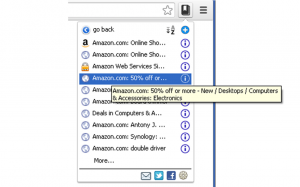 Please stay tuned for upcoming versions.
This is a new version release note of  BookmarkMatic for Shoppers, the extension is available for download now.
For a complete user manual of this add-on, please visit here.